What's it take to attract top players to a PGA Tour stop without being a 'designated' event? These two West Coast stops will show you
Last October, in a bid to stop LIV Golf from luring away players with big-money paydays, the PGA Tour named the four existing tournaments that would join eight previously announced "elevated" events on the 2023 schedule. The strategy was understandable given the threat from LIV, but none other than Jack Nicklaus wondered aloud about the collateral damage it might create, even as his own Memorial Tournament was one of those designated for a loftier position.
"What it's done is made the PGA Tour almost two tiers," Nicklaus said in an interview with the Associated Press. "All of a sudden the other tournaments become feeders."
It was a reasonable reaction. With 11 events sporting $20 million-plus purses (and the Sentry Tournament of Champions offering $15 million to its limited field), the tour's top players would see those tournaments as "must-plays"—indeed, to be eligible for payouts from the tour's Player Impact Program, they can only miss one of those events. Toss in the majors and the FedEx Cup Playoffs, and that amounts to 19 starts on tour for the year, which doesn't leave a bunch of wiggle room for other events.
Once the new schedule was revealed, there were some tournament directors at the "other" events who wondered the same thing as Nicklaus: How could they attract any top-ranked players in this new landscape?
"Everybody realizes the tour is trying to do something to combat LIV Golf, and that's understandable," one tournament director, who asked not to be identified, told Golf Digest in October. "We all want to protect the tour and see it continue to grow. But a lot of us can't believe they did this. Some sponsors are pretty hot."
It seems too early to tell whether this will become a real problem or not, considering there have always been some tournaments that attracted better fields than others. But so far in this calendar year, the prospects for impressive fields in early tournaments on the West Coast are equal to or better than they've been in the most recent years before the COVID-19 pandemic. And that's with two "elevated" events looming in the next five weeks—the WM Phoenix Open and Genesis Invitational in Los Angeles.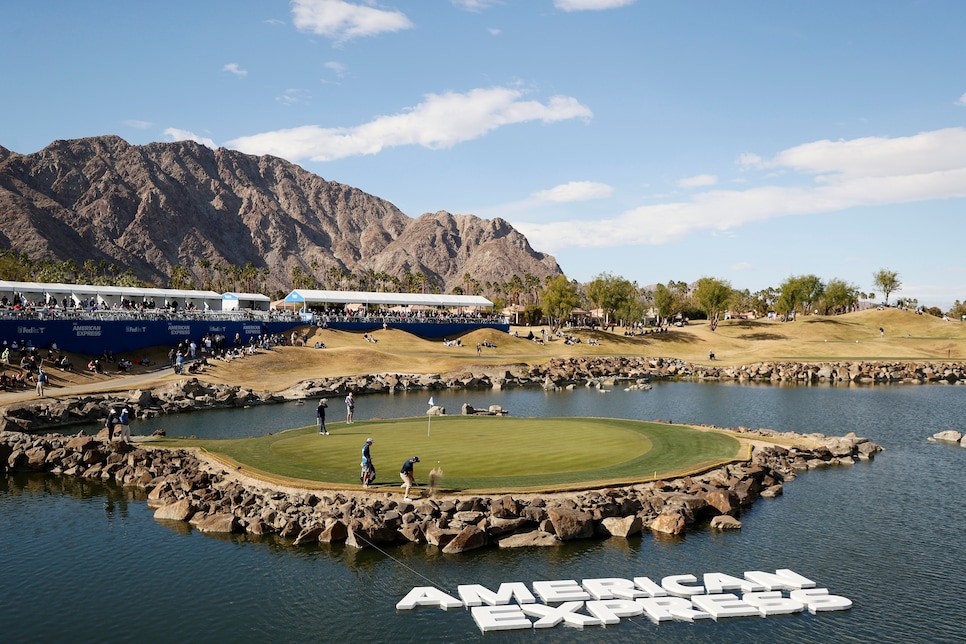 The Stadium Course at PGA West, where The American Express is played, is one of the most iconic courses in America.
Steph Chambers
They're doing a little bit of extra celebrating in the California desert at La Quinta for this week's American Express after drawing the strongest field they've had since maybe Arnold Palmer was a regular competitor. A year after only one of the top-10 players in the World Ranking entered, five of the top seven—Scottie Scheffler, Jon Rahm, Patrick Cantlay, Xander Schauffele and Will Zalatoris—are set to compete for the tournament's largest-ever purse of $8 million.
At Torrey Pines next week, when the $8.7 million Farmers Insurance Open is played Wednesday-Saturday for the second time, five of the top 10 are entered, with Scheffler and Cantlay not committed (the deadline is Friday), but major winners Justin Thomas and Collin Morikawa playing.
Both fields have one of the game's most popular players in Tony Finau, while the Farmers will get its usual boost of orange-clad devotees to Rickie Fowler, as well as the ardent followers of former Masters champ Hideki Matsuyama. Arguably, the only true stars that either event is missing are World No. 1 Rory McIlroy (who is expected to play with a guaranteed payday on the DP World Tour in Dubai on the Farmers week) and three-time major winner Jordan Spieth.
Neither the close proximity of events with heftier prizes nor the existence of LIV Golf seems to have affected the big-picture prospects of the AmEx and Farmers. Of the players who did defect to LIV, only Phil Mickelson was a significant attraction for both (though Patrick Reed captured titles in each).
"LIV Golf didn't take our best golfers," said Marty Gorsich, the tournament director of the Farmers Open. "They took the villains and took the guys whose names were bigger than their games."
Gorsich insisted he was not one of those executives who reacted passionately against the notion of elevated events—the tour has since shifted to calling them "designated" events. He repeated an assertion that he's no doubt used with his sponsors and corporate patrons. "I was not worried in the least," he said. "Elevated is not elevating an event, it's elevating a field. Are a few more guys who are ranked going to change who watches this tournament? I don't think so."
Pat McCabe, The American Express tournament director, had a bit more of a practical assessment: "There aren't any of those elevated events in the month of January, so we fall into a perfect spot. That helps us a lot."
A tale of two tournaments
In many ways, these first two Southern California events—staged only 130 miles apart—could not be more different. The American Express had a couple of lean decades, with no network TV, smaller purses, no Tiger Woods and the celebrity sparkle of former tournament host Bob Hope having disappeared. Meantime, for years in San Diego, they only had to announce Tiger Woods was in the field to ignite a ticket-buying frenzy. What more is there to promote when Tiger and San Diego-native Mickelson combine to win your tournament 10 times over a 15-year stretch?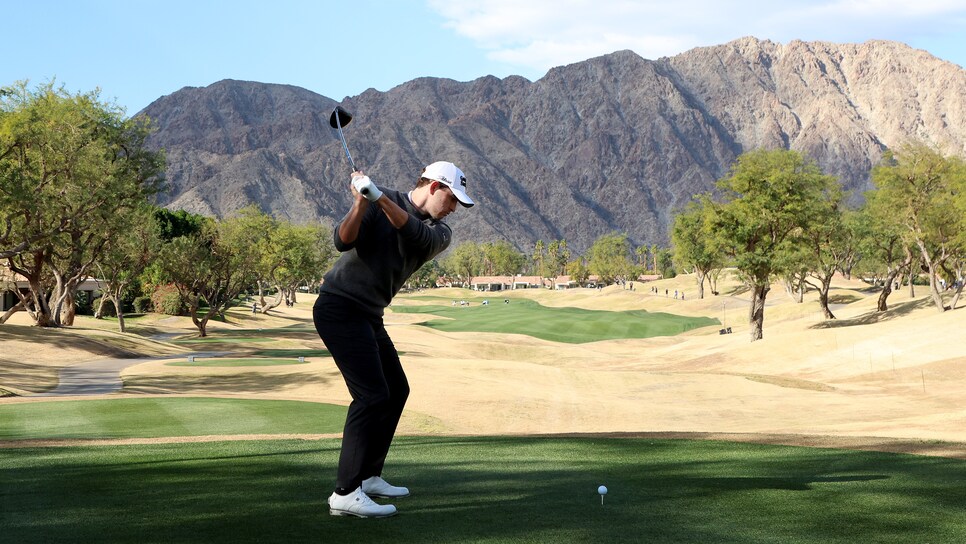 Patrick Cantlay finished runner-up in the 2021 American Express.
Sam Greenwood
How much wider could the gap be between how the two tournaments play out? The AmEx is a shootout on perfect greens in the dome of dry desert weather. Torrey is a near-major grind with gnarly rough, bumpy Poa annua greens and damp ocean air.
But times and preferences change, and it appears that the current younger set of players are up for either challenge.
The American Express moved from five rounds to four a decade ago, and with every player guaranteed three rounds at PGA West and La Quinta Country Club before the Saturday cut (the event has retained its pro-am format during the tournament proper, the only event besides Pebble Beach on tour to do so), there are competitive reps to enjoy. And with the weather being so good, there is the chance to get there early and work on your game if desired. The laid-back vibe in the warm sunshine doesn't hurt.
"This is a great place for me to start the year," Scheffler, the current World No. 2, said last January. "Outside of trying to be at Kapalua every year, this is a good place to start in the 48 states. Great weather, golf courses are in good shape, the greens are nice and firm this year."
The AmEx seems to have run into some good fortune with higher-ranked players who have an affinity for the locale and the tournament. Rahm, the World No. 4, was easily the event's most high-profile champion in the span of a decade when he won the then-CareerBuilder Challenge in 2018 with a 22-under total. Cantlay, Schauffele and Zalatoris are all California natives, and Utah's Finau seems to favor courses in the West.
Said Rahm last year, "It's a place I've been coming to for a very long time. Played the [PGA West] Nicklaus Course a couple of times in college and played the other PGA courses as well. I feel comfortable. I live in the desert [in Arizona], so I always looked forward to coming here and hopefully having a good week."
Rahm, of course, can have a pleasing week anywhere, in any conditions, and that definitely applies to Torrey Pines, where he won the Farmers in 2017 for his first PGA Tour title before grabbing his first major title in 2021 when the South Course hosted the U.S. Open. Right now, he's the hottest player on the planet, coming off a victory in the Sentry Tournament of Champions while having four top-10s in his last five official tour starts.
Making it more than golf
In the view of both Gorsich and McCabe, all of the stats and rankings and pedigrees are fun to chatter about, but in more recent years they've hardly been the primary focus of many tournament directors, who have coffers to manage and charities to help. The prime example is that over the last six years, the Farmers hasn't featured a single player in any of its promotional materials. In press releases this year, Gorsich ordered his PR specialists not to emphasize World Ranking status.
Now 11 years with the tournament, Gorsich learned a lesson from watching others lean on the Tiger Effect: Don't promise what you can't deliver.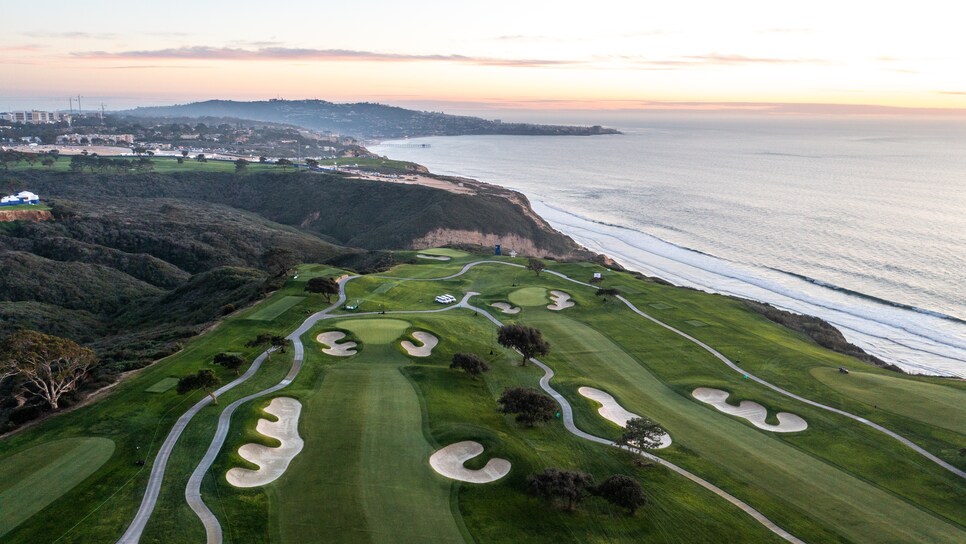 As host of two U.S. Opens and many Farmers Insurance Opens, the Torrey Pines South Course is among the most challenging among regular events on the PGA Tour.
Ben Jared
"We are a social and lifestyle event, whether you love golf or not," he said. "We have the views, the food, the drinks, the energy. We have plenty to hold the interest of the golf junkie, but plenty to offer for non-golf people, too."
At Torrey Pines, that means high-end experiences in luxury boxes that went on the market last April. Even with price tags as high as $19,500 for a corporate group on the 18th hole for a championship round, most are sold out. The daily ground tickets aren't cheap either, at $80-$90. The tournament used to supply thousands of tickets to local charities, who sold (or gave them away) for well below face value, while also not being able to fully account for where the money was going.
That practice went away and was replaced by more focused charity efforts that are limited to six organizations. Gorsich said the pandemic gave tournament organizers at the Century Club of San Diego time to reassess their business path.
Gorsich also had to contend with the move to a Saturday finish last year because of the NFL conference championship games being played on his Sunday. By starting a day early, the tournament took a significant financial hit when a pro-am had to be cancelled—though he gained 112 of the missing 204 spots back with the launch of a Monday pro-am this year (at $10,000 per spot)—but insisted there have been positives in being able to plan for crowd sizes and provide a better overall fan experience.
As for the television ratings, last year's final-round Saturday Nielsen number for the Farmers was 1.7, with an average of 2.67 million viewers seeing journeyman Luke List win his first tour title. That didn't compare badly to the Sunday round from 2021, which produced a 1.95 for Reed's win. Those are far down from 2013, when Woods' last victory earned a 3.2. But, as Gorsich points out, viewership is far more varied now and his message to sponsors is that more eyeballs are being delivered to golf on more platforms than ever before.
Noting the longstanding metrics of attendance, network TV ratings and charity dollars, Gorsich said, "All three of those could be down, but our profitability on attendance was way up. Our business practices are much more stable than they've ever been."
The Coachella rock scene
In the Coachella Valley, where concerts have become a way of life and big business, American Express immediately tapped into the music scene when it took over as title sponsor in 2020. That first year featured concerts on the driving range by Stevie Nicks and Luke Bryan, and this year the acts are Gwen Stefani and Darius Rucker. According to McCabe, the concerts draw upwards of 17,000 people, and the desire is that a good portion of fans arrive early to get in some golf watching.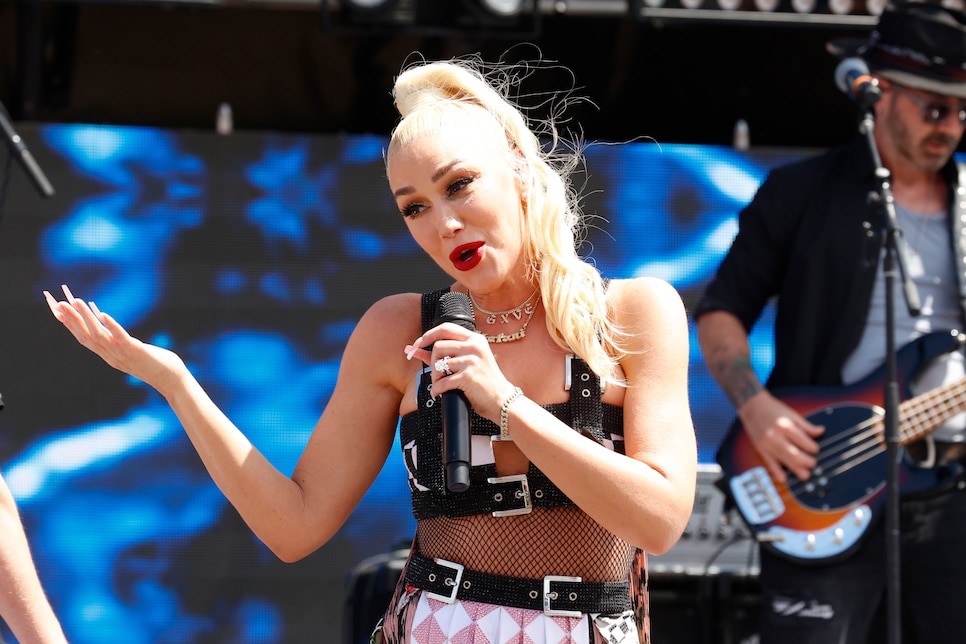 Gwen Stefani and Darius Rucker are the headline acts at this year's The Amerian Express golf tournament in La Quinta, Calif.
Icon Sportswire
"That's what we hang our hat on," McCabe said. "It's more than a golf tournament. If they're a golf fan or fan of music, we have everything for them. … It's brought a wide variety of demographic of folks."
The tournament also recognized that some people just want to see golf, so it lowered ticket prices this year to $50 for the non-concert days of Thursday and Sunday, while selling all-inclusive passes for $79 for Friday and Saturday. Those same passes last year were $125.
Gorsich and McCabe are in constant discussions with PGA Tour officials, but both said they don't know what the tour schedule will look like beyond the 2023 season. It has been posited that the tour could potentially rotate the "designated" opportunities around the various regions, so as to maybe spread the perceived prestige around.
But that also involves a tournament raising its purse by tens of millions of dollars—a responsibility likely put on the shoulders of the title sponsor. McCabe seems to be happy in his spot, and Gorsich said he has had discussions with Farmers executives about the pros and cons.
"I'm not a fan of a rotation," he said. "I don't know that we want to go out and tell our guests that one year we're special and the next year we drop. I think we're a tremendous event. People love coming to it and our title [Farmers] is super happy. We're in a great place."